Operation Gladio was a false-flag terror program set up by the CIA and NATO. Although Gladio was eventually exposed, it was not just a single event, but an ongoing operation that remained secret for decades, in which hundreds of innocent people were killed and injured in terrorist attacks that were blamed on other groups. Many people believe the program is still operational.

A little advice for people in large groups that may ever unfortunately find themselves in such a situation. Bum-rush the shooter! The gunman cannot take you all down if you mob him. Some will die, but all will die if you do not.
'SOCIAL MEDIA MASSACRE – RIGHT BETWEEN THE IDES W/ VINNY EASTWOOD' – March 15, 2019 - Interview starts at 46:45.
You need a brain. "Prime minister herself says witness sees armed offenders squad member walk in mosque and open fire." Sounds like drill took place same time, day, and maybe place, like so many events. No therapist will change those facts or bring back documented gladio victims.

— Angie (@Angie8171982) March 17, 2019
Did Gladio do New Zealand as a false flag to demonize Trump and shut down the Right?
Why Was John Podesta REALLY In New Zealand Days Before Mass Shooting? Signs This Was A HUGE False Flag To Demonize Nationalism And Further Censor The Internet

While I woke up this morning expecting to write a story about just how incredibly deeply corrupt America has become
as Michael Snyder reports in this new story over at the Economic Collapse Blog
following the college admissions scandal that has rocked parts of Hollywood and some of the global elite who were buying their children's way into some of the top universities across America, I was immediately sidetracked by some of the absolutely bizarre coincidences and signs following the mosque shooting in New Zealand that the globalists and mainstream media want EVERYBODY to know about because it perfectly fits their agenda.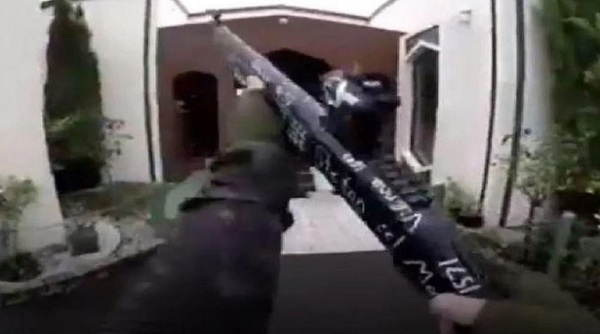 So we're going to jump right into an
extended excerpt below of Mike Adams absolute must-read story
and his description of what he believes may have really played out in New Zealand, with the country also a member of "
Five Eyes
", an intelligence alliance also comprising Australia, Canada, the United Kingdom and the United States: "
These countries are parties to the multilateral UKUSA Agreement, a treaty for joint cooperation in signals intelligence.
"
Notably, as much as the violence in this event appears to be genuine, it also appears that the shooter was setting up an elaborate narrative to blame conservatives such as Candace Owens, who is for some reason named in a post that was reportedly authored by the shooter. (Candace Owens is a brilliant, African-American conservative commentator who abhors the use of violence, by the way.) Other parts of the post containing hate-filled rants against Islam and a desire to carry out violence against Muslims.
The narrative that this shooter was "radicalized" by intelligent conservative voices like Candace Owens is obviously contrived, and it points to larger questions about who might really be behind this event (and who benefits from the narrative that emerges from the carefully scripted, video-documented violence).
Another suspicious fact that's emerging from this event concerns reports that there may have been three shooters at two locations, meaning this may have been a coordinated, carefully planned (i.e. staged) event.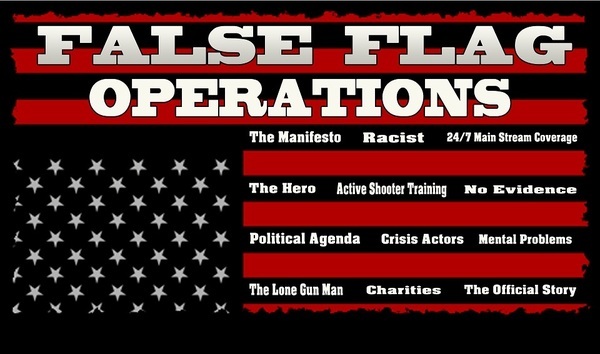 With the New Zealand event already showing several different signs of being a potential false flag event as seen in the graphic above, we'll take a further look here at the political agendas which New Zealand may help the globalists to carry out with the demonization of President Trump and his supporters now front and center.
With what happened in New Zealand looking more and more like a false flag event to demonize not only President Trump and his supporters but nationalism as well, we can't help but come back to remarks recently made by POTUS himself.
Soooo, why was John Podesta REALLY in New Zealand just days before the horrific Mosque shootings?
___
http://allnewspipeline.com/Huge_New_Zealand_False_Flag_To_Demonize_POTUS_And_Censor_Internet.php
IDES OF MARCH: What really happened at the New Zealand mosque terrorist attack? Cui bono?
---
---
It's no coincidence that this odious mass shooting was conducted in a city with the name Christchurch.
Of course, the perps would choose the

Ides of March

to carry out such a heinous and murderous plot.
The cool precision and mechanical firing of his automatic rifle indicates that the terrorist who killed 49 Muslim congregants at the mosque in New Zealand was a highly trained professional.
---
---
While it's entirely true that he may not even know what that mission was, he was used by his masters to incite a religious war on the once peaceful island nation of New Zealand. That religious and race and cultural war will undoubtedly spill over to every other nation with similar religious demographics.
---
---
Events are now unfolding so quickly across the entire planetary civilization and information is being shared so instantaneously, as the video of the real-time mass shooting clearly demonstrated, that the true perps at the very peak of the pinnacle of the worldly power pyramid can no longer hide as they once did.
---
---
Cui bono?
In the short term, who really gains by this shocking atrocity? Here's the answer:
---
---
Shut down the Right and justify Internet censorship
By the way … … …
---
---
MK-Ultra Mind Controlled Perp
The 17-minute video of the entire shooting that was sent to the TMR editor has been closely viewed. Clearly, the execution of this mass shooting was performed by a highly skilled military-trained assassin. Given the accuracy with which he hit (and killed) his victims, it's clear that he was an extremely qualified marksman.
However, it was his extraordinary composure throughout the entire rampage that revealed the degree of mind-control programming that he has been subjected to. There is also the distinct possibility that the shooter was under the influence of the same type of powerful psychotropic drugs that various militaries around the world give their soldiers right before battle.
To have carried out such a savage operation without the slightest indication of conscience exposes this whole psyop as a carefully planned event. Only a drug-addled robot could have moved as efficiently and proficiently without the slightest concern about being caught or confronted. He even doubled back to each pile of victims to shoot them again to make sure his quarry was dead.
*NWO = New World Order
---
---
Occult influences at work
The bottom line here is that the hidden occult motivations for these types of impressive events are the most significant of all. The power elite have always taken advantage of dark occult power to further lock down planet Earth, and this ritual sacrifice will further their goals considerably.
Conclusion
---
---
Update
Editor's Note
Special Note:

Our deepest condolences to the families and friends of each of the victims who was killed in this utterly senseless act of carnage.
Recommended Reading
---
Author's Note
Related:


Brenton Tarrant and Anders Breivik: Coincidences between the New Zealand and Norway attacks - Bullet Casing Sound Edited in to New Zeland Shooter Video:

http://911debunkers.blogspot.com/2019/04/parkland-3-witnesses-multiple-shooters.html



Dr. Eowyn, How we know New Zealand mosque shooting video is a CGI fake:



http://911debunkers.blogspot.com/2019/03/dr-eowyn-how-we-know-new-zealand-mosque.html



Robert David Steele, New Zealand False Flag to Disarm America or even start World War III - FALSE FLAG? Why The World Has Questions About Christchurch:



http://mindtreasury.blogspot.com/2019/03/robert-david-steele-new-zealand-false.html



Scott Bennett, THE NEW ZEALAND SHOOTING: WHAT HAPPENED AND WHY?:



http://911debunkers.blogspot.com/2019/03/scott-bennett-new-zealand-shooting-what.html



ALERT: Brighteon.com video platform under extreme threat from internet infrastructure providers, forced to delete all New Zealand shooting videos, essentially "at gunpoint" by the globalist controllers of the 'net - NZ ADOPTS HARSH GUN CONTROL MEASURES AFTER CHRISTCHURCH MASSACRE - New Zealand Blocks Bitchute, 8chan, etc, Gets Told to Fuck Off by Kiwifarms:



https://trumpisright.blogspot.com/2019/03/alert-brighteoncom-video-platform-under.html



The New Zealand Mosque Shooting Was FAKE




NZ Shooter Is A Leftist Communist Sympathizer - Candace Owens and PewDiePie Not To Blame For New Zealand Shooting! - Terrorist who attacked New Zealand mosque said China is closest to his political and social values:
http://trumpisright.blogspot.com/2019/03/nz-shooter-is-leftist-communist.html
Debunking the Debunkers: THE REICHSTAG FIRE WAS NOT A 'FALSE FLAG!' - DEEPTRUTH 2018 "False Flags" PART 1 & 2:
http://911debunkers.blogspot.com/2019/03/debunking-debunkers-reichstag-fire-was.html
Rush Limbaugh Raises Prospect That New Zealand Massacre Was False Flag Attack - REPORTS OF 2ND CHRISTCHURCH SHOOTING SUSPECT TAKEN DOWN...DOUBLE FALSE FLAG OP? - Flashback Friday - Ep19 - The Christchurch Shooter:



http://911debunkers.blogspot.com/2019/03/rush-limbaugh-raises-prospect-that-new.html

Cruz Demeanor In Court, MKULTRA? 'Voices' Prompted Massacre - 3 Witnesses: Multiple Shooters, 'Shots Were Coming from Other Part of Building' from Where She Was WALKING with Cruz - 'I Was Surprised You Weren't the One Who Did It' 'Obviously, Definitely, Another Shooter Involved' - 'Active Shooter Drill' Hours Before, Secret Service Changed Safety Protocol Weeks Before:

http://mindtreasury.blogspot.com/2018/02/cruz-demeanor-in-court-mkultra-voices.html



Two Key Things That Got Overlooked About Project MK Ultra:



http://mindtreasury.blogspot.com/2017/09/two-key-things-that-got-overlooked.html

DONALD TRUMP IS A 9/11 TRUTHER!!:

http://911debunkers.blogspot.com/2016/01/donald-trump-is-911-truther.html
Austin Plane Crash - Where have we seen this before?